The U.S. poultry industry has been ignoring whistleblower concerns about dangerous chemical use at processing plants, but will it ignore international trading partners? An NPR story last week explained how Europe's food standards, which instigated banning chlorine treatment on chicken in the 1990s, are impacting U.S. trade negotiations.
USDA poultry inspector Sherry Medina has been speaking out against the U.S. industry's excessive reliance on chemicals (including peracetic acid, chlorine, and other unknown substances) to clean chicken carcasses. She was forced to retire early due to serious health issues she believed resulted from the chemical cocktail that workers breathe in every day at the Tyson Foods plant where she was stationed. Here's a photo of Sherry giving an interview on German television.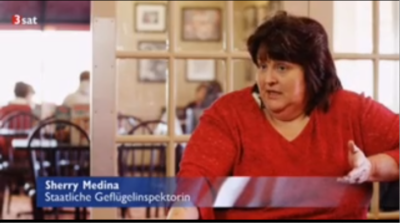 Brian MacDonald is another USDA inspector who felt he had no choice but to leave his job due to failing health "related to chemical exposure." In the affidavit he submitted to FIC, he explains how concerns were heightened when the facility had poor ventilation, an issue likewise raised by Medina. Three more anonymous whistleblowers raised similar concerns. View all of their affidavits here.
If workers inspecting your chicken can't even breathe while on the job, something is seriously wrong. Europe has it right with strict regulation of chemical use. If American companies want to stay competitive abroad, they need to heed whistleblower concerns and keep processing plants from posing a hazard to both workers and consumers.
Sarah Damian is Communications Manager for the Food Integrity Campaign.