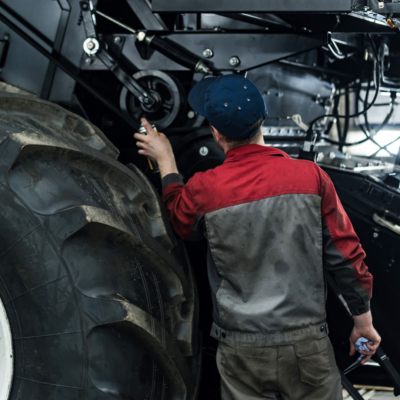 Farmers want the "right-to-repair" their agricultural equipment and FIC supports their important bipartisan demand.
Having a food system with only a few corporations in control negatively impacts farmers, eaters, animals, and communities. Corporate consolidation has been at the forefront of agricultural news in the last year in relation to price hikes and supply chain disruptions. Specifically, the shrinking number of corporations that control the beef, pork, and poultry market, the U.S. baby formula market, and the skyrocketing fertilizer prices. However, lesser known, but equally significant to the overall vitality of the food system, is the way unchecked consolidation has impacted the repair service market for agricultural equipment.
What is Right-to-Repair?  
Earlier this year, the Senate introduced a bill [S.3549 – Agricultural Right to Repair Act] to allow farmers to repair their own equipment. This bill would require agricultural equipment manufacturers to make available to the public, instruction manuals, software codes, and spare parts. This would allow farmers to have a third-party mechanic to fix the issue or they can repair it themselves. New laws could give farmers more choices for repair and more options in an industry rife with dealership consolidation.
What's the problem?   
When a farmer is at the mercy of their malfunctioning equipment, with few choices to resolve the issue, it delays their farm production and is costly. Overall, it puts the "little guy" at a disadvantage. It's another challenge that makes it harder to compete or stay in business altogether.
In an interview with The Guardian, Walter Schweitzer, a farmer in Montana, recalls harvesting hay when his tractor broke down in the middle of the process. The tractor company told him that they couldn't send a mechanic to fix the issue for at least a week. Farmers don't have that kind of time to waste. Rain was forecasted and the hay needed harvesting or else the rest of his crop was at risk of being ruined. Luckily, he was able to use an old tractor to finish the harvest. His old tractor saved the day because his internet-connected tractor did not get fixed until a month later, not a week later, as promised. As illustrated in this farmer's story, the present problem is that farmers must adhere to strict manufacturer rules that aren't in their best interest. These rules prohibit farmers from repairing their equipment issues themselves or finding someone else who can. These rules create uncertainty in farmers and can cause loss in farm income, mental anguish, and contribute to a less resilient food supply chain.
Our industrial food system with unchecked consolidation and vertical integration has created this power imbalance. This is an example of how consolidation functions in helping drive independent producers out of business, while large agribusiness thrive, paving the way for bigger corporate farms.
I'm not a farmer. Why should this matter to me?  
You may not have farm equipment, but perhaps you own tech devices like an iPhone or laptop, or a newer refrigerator or wheelchair. The right to repair applies to other sectors where companies have made third-party repairs harder to do because of locking software, a lack of spare parts, and prohibitive warranties. As a purchaser, don't you want the right to control an item that you already own? Supporting farmers in their right-to-repair could positively affect the trajectory of other right-to-repair issues.
What's being done to fight this issue?   
In July 2021, President Biden wrote an executive order pushing the Federal Trade Commission to come up with new rules for repair.
At FIC, we are following this issue closely and helping farmers navigate this critical and developing bipartisan issue. The Senate's right-to-repair bill is getting a lot of attention. And there are at least 32 state legislatures across the country introducing similar bills this year.
In the courts, as of now, twelve class-action lawsuits have been filed against John Deere over the right-to-repair John Deere brand agricultural equipment.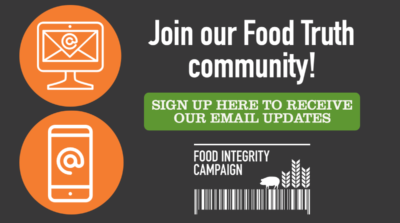 Our Final Word   
It can be easy to dismiss what's happening with farmers as too remote to concern us, but we all eat, and we all have a stake in this. Supply chain failures clearly demonstrate that when only a few corporations call the shots and hold an immense amount of power it leads to empty shelves and bankrupt communities. Farmers not having the right to fix their equipment is an unfair practice, and we stand with the farmers demanding a level playing field!